Are you happy with your current heating and cooling bill? Have you noticed it creeping up in price, especially during the summer months? Continued higher energy bills could indicate your central air unit is not working efficiently. As soon as you suspect there's an issue, you should call Superior Comfort Heating & Cooling. They have the knowledge and expertise it takes to reduce your bill by 15% or more. They'll do a complete interior and exterior energy assessment of your home to determine if you need air conditioning services in Downriver Michigan. You may need AC repairs, or perhaps an entirely new unit. Either way, their team of experts is here to help and get you on the path to improved air quality and reduced energy bills.
Sometimes it's an easy fix – for example, if you have debris in or around your central AC unit, that can cause it to work too hard and reduce energy efficiency. Other times, you may have an old unit that needs replacing. Superior installs popular name brands such as Carrier, Trane, and Lennox in addition to many others. Their products are guaranteed to work harder and better than others on the market. All their services are guaranteed safe and efficient, with high-performing ratings. When you're looking for a trusted air conditioning installation contractor, Superior is the #1 choice Downriver.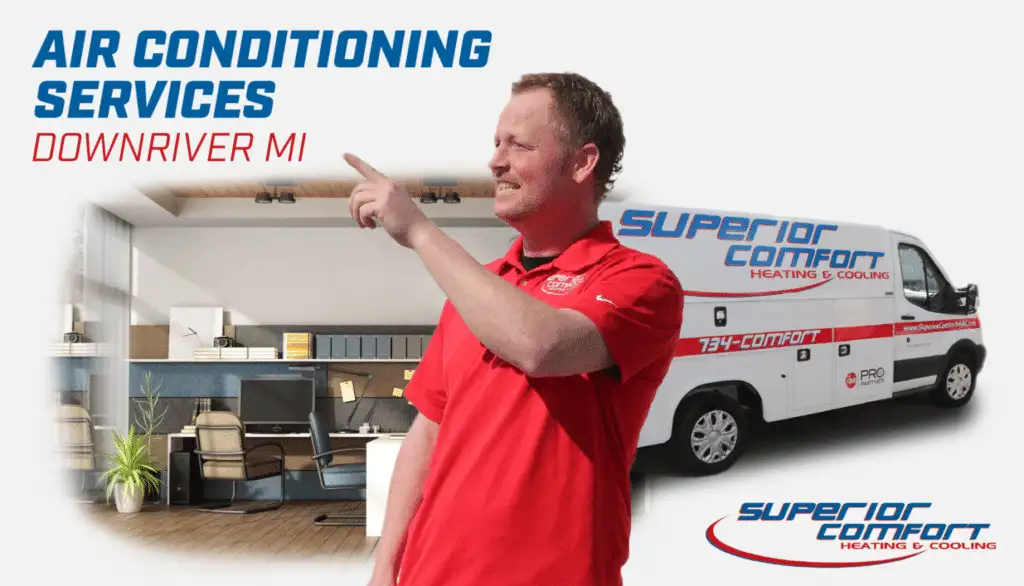 Cool off and save money, too
Do you need a new humidifier, thermostat, or air filter? They've got you covered at the lowest prices in town. If you need financing, they have affordable plans available as well as six months same as cash, easy credit applications, and discount deals. You may be tempted to hire an amateur, unlicensed HVAC contractor online, but doing so could cost you much more than you think. You could receive a fine from your local inspector's office, or worse yet, the contractor may take off with your deposit and leave the job unfinished. You should verify that the AC company you hire is licensed and insured. Check out their Facebook page to read comments and request a reference from a recent customer. Superior Comfort Heating & Cooling is the best air conditioning services contractor in Downriver Michigan, recommended by Angie's List and the Better Business Bureau. You need to call Superior, a name you can trust.
You need a "smart" thermostat
If you're gone during the day but don't want to leave your home cooled off 24/7, a smart thermostat is the answer. Smart thermostats regulate their temperature and adjust as needed. You can program them to cycle on and off at certain times, so it won't be running all day when your home is empty. Instead, it will kick on prior to you coming home so your house will be cool and comfortable, without a sky-high AC bill.
Schedule an inspection
If you're not sure if your air conditioning unit is running properly, the first step toward finding out is to call for an inspection. Superior will perform a thorough inspection and present you with a detailed report, so you can make the most informed decision possible. You may need maintenance, repair, or a new AC installation – either way, you'll get fast, friendly service from their expert technicians. There's no charge for an inspection and estimate, and you'll be saving money because Superior Comfort Heating & Cooling has buying power so they can pass on discounts to customers, a win-win!
Affordable financing made easy
AC repairs and installation can be costly, that's why Superior has many options for you. You can pay via cash, check, credit, or debit card. Some of the affordable payment options include:
• Low monthly payments
• Competitive interest rates
• Simple credit application process with a quick decision
• Generous revolving credit lines for current and future purchases
Our knowledgeable finance advisors will help you with all aspects of the financing process, so you won't break your budget.
Don't wait until it's too late
If you're hearing loud noises, noticing water pooling around your air conditioning unit, or your bill keeps jumping up, don't wait to call a licensed AC contractor such as Superior Comfort Heating & Cooling. If you live Downriver, they're the top-ranked company that will get the job done right. If you wait too long to schedule an inspection, it could end up costing you hundreds, if not thousands of dollars more. It may be a simple fix like a part replacement, and if not, Superior will set up your new AC installation to accommodate your busy schedule. They'll take care of everything from setup and permits to installation, final inspection approval and cleanup while you relax. Call them today at 734-818-7141 to speak to a heating and cooling expert. Got an air conditioning emergency? You can call them anytime, 24/7, on weekends and holidays.