AC, Heating & Water Heater Maintenance Carleton MI
Nothing can ruin a day faster than an unexpected HVAC emergency. Whether you AC unit goes out in the middle of summer or your furnace stops working on a cold winter night, you need reliable and prompt service. That's why we're here to provide you with top-notch heating and cooling services in Carleton, MI. Our team of skilled professionals is dedicated to addressing all your HVAC concerns and ensuring your home remains comfortable throughout the year. We know how important it is to have a functional system, and we'll work hard to exceed your expectations.
Whether you are looking for heat pump repair or furnace installation in Carleton, MI, Superior Comfort Heating and Cooling is here to provide you with the highest quality of service!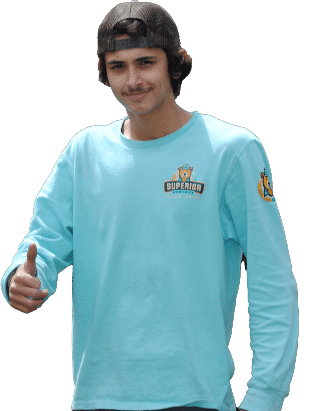 Elevate Your Home's Comfort: Explore Our Heating & AC Services in Carleton, MI
Carleton, MI, is home to many different levels of temperatures and climates, making it essential to have an efficient and reliable HVAC system. We provide top-notch services designed to meet your home's individual needs. Our team has experience in a variety of areas, including:
In addition to our heating and cooling services in Carleton, MI, we are also available for emergency repair calls. We understand that unexpected issues can occur, and our technicians are prepared to provide prompt solutions.
Don't Freeze Up: Recognizing Telltale Signs of Heating System Issues
When the temperature drops, you want to ensure your heating system is up and running smoothly. Unfortunately, HVAC systems often show subtle signs of wear and tear, leading to bigger issues. If you notice any of the following, it's important to have your system serviced right away:
Our team will assess your system and provide repairs or replacements when necessary. We'll work hard to ensure your home remains comfortable regardless of the season.
Healthy Living Starts Here: Explore Our Indoor Air Quality Services
We believe healthy living starts with indoor air quality. Our team is experienced in installing and maintaining air purifiers and humidifiers. We can help you to select the best system for your home, and our technicians will ensure it is properly installed. We can also provide regular maintenance services to keep your indoor air clean and healthy.
Remember that indoor air quality is essential for your family's health. Moreover, poor air quality can cause significant damage to your HVAC system. That's why we highly recommend scheduling regular maintenance services with our team. Our technicians will assess your system and make sure it is working efficiently.
Professional Water Heater Maintenance, Repair, and Installation
Can you imagine your life without hot water? At Superior Comfort Heating and Cooling, we understand the importance of having a reliable water heater. These units require regular maintenance to ensure they are working properly. Our team can provide preventive maintenance, troubleshooting, and repair services for all makes and models, whether it's a traditional or tankless water heater. In addition, we offer complete system installation of new water heaters.
Remember that too old and inefficient water heaters can cause an increase in your energy bills. That's why replacing these units with more efficient models is essential. Our technicians can help you to determine if a replacement is the best option and install the most suitable unit for your home.
Once you schedule services with us, our team will provide you with a detailed report outlining the repairs or replacements we performed. We'll also advise how to extend the life of your water heaters in your Carleton, MI, home or office.
Let Superior Comfort Heating and Cooling help you keep your home comfortable. Contact us today at 734-929-9821 to schedule heating and cooling services in Carleton, MI!