AC, Heating & Water Heater Maintenance Wyandotte MI
Do you want to avoid dealing with heating and cooling issues in your home? Are you searching for an experienced team of professionals who can provide superior HVAC services in Wyandotte, MI? At Superior Comfort Heating and Cooling, we're here to provide you with top-notch heating and cooling services in Wyandotte, MI, that will keep your home comfortable all year round. Our professionals are ready to tackle any problem you may encounter, ensuring that you and your family can enjoy the perfect indoor temperature regardless of the season.
We can also help you with humidifier installation or repair in nearby areas. These units can offer superior cooling and energy savings!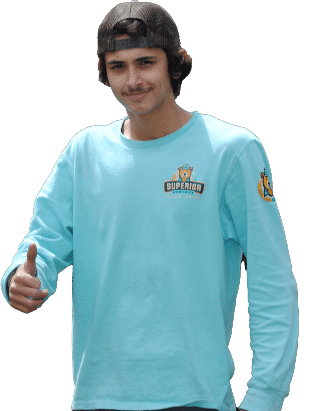 Our Heating and AC Services in Wyandotte, MI
Your home comfort needs require special attention, so we're proud to offer a range of services designed to keep your HVAC systems in optimal condition. From regular maintenance and repair services to full-fledged installations, our team has the experience and expertise to get the job done right. We offer:
Whether you are looking for an air conditioner or furnace installation in Wyandotte, MI, our technicians have the knowledge and experience to provide you with a superior level of service. We are committed to delivering high-quality workmanship and outstanding customer service so that you can enjoy reliable comfort in your home all year long.
Purify Your Indoor Air: Discover Our Indoor Air Quality Solutions
Statistically, indoor air can be up to 5x more polluted than outdoor air. We understand the importance of having clean, breathable air inside your home. That's why we offer a range of indoor air quality solutions to keep the air in your home free from pollutants and allergens. We can help you select the ideal HVAC system for your family's needs, as well as install air purifiers and humidifiers to create the perfect indoor environment.
As a result, you can enjoy the ultimate in-home comfort, knowing that your HVAC system provides clean air and reliable performance.
Heating System Woes: Signs That Demand Your Attention
The main goal of your heating system is to keep your home comfortable during the winter months. However, some common signs indicate your heater may be in need of repair or replacement. If you notice any of the following, don't wait to call for assistance:
You can't ignore these signs, as they could indicate a serious issue with your HVAC system. By calling the professionals at Superior Comfort Heating and Cooling, you can count on us to provide the necessary repair or replacement services to get your system running smoothly again.
Safeguard Your Comfort: Professional Water Heater Maintenance, Repair & Installation Services
It's no secret that hot water is essential for everyday tasks such as showering, dishwashing and laundry. A malfunctioning water heater can cause a lot of frustration, so our team is ready to provide you with the professional water heater services you need.
Whether your unit needs repairs, routine tankless water heater maintenance, or a full-fledged installation, you can trust us to get the job done right. We understand the importance of having hot water in your home, and we'll take steps to ensure that you have access to warm water when you need it. We offer a full range of water heater services, including:
Our technicians are highly skilled and experienced in all water heater installation and repair aspects. We offer fast, reliable services to get your water heater up and running again in no time. We stand out from other companies because of our drive to constantly improve and our dedication to ensuring our customers are happy and comfortable.
Let Superior Comfort Heating and Cooling professionals take care of all your heating, cooling, and water heater needs. Contact us today at 734-929-9821 for heating and cooling services in Wyandotte, MI!