As a homeowner, I am sure you have heard time and time again when it comes to your air conditioner you'll need to do regular maintenance to keep it operating as it should. Routine maintenance is one of the most important tasks of being a homeowner. Even though you hear so many people giving you this advice they do not always explain why AC maintenance in Grosse Ile Michigan is so important when it comes to your air conditioner. You need to be sure to maintenance your air conditioner once a year.
5 Reasons To Schedule AC Maintenance in Grosse Ile Michigan
During the spring is the best time to perform maintenance on your air conditioning system. Cleaning and ensuring all vents and registers are not blocked is also a good idea as sometimes these vents can be blocked inadvertently. This is especially true if your heating and cooling system are separated and not connected. With that being said, here are some of the most important reasons why you need to have regular maintenance on your HVAC system.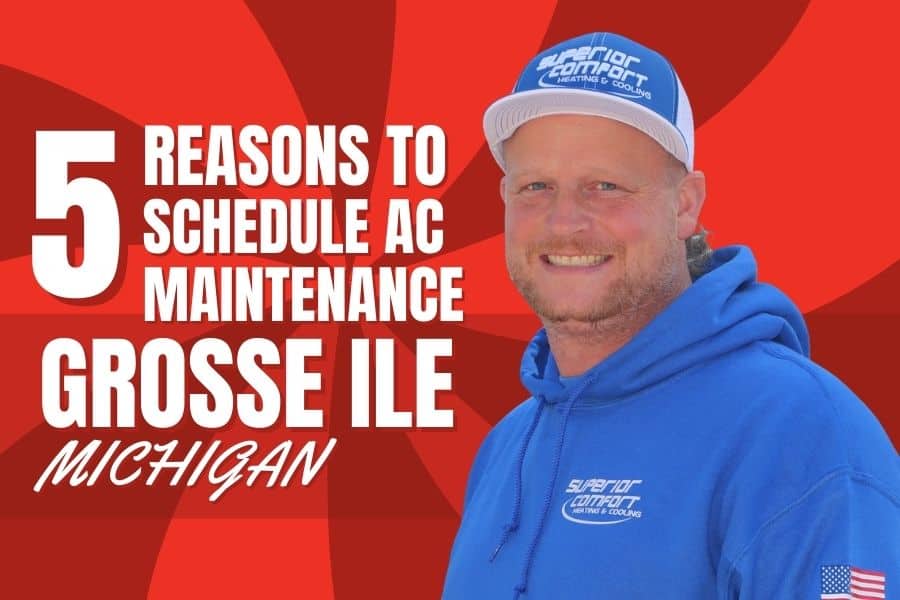 It Boosts and Maintains Efficiency
In the long run everyone would like to know what would directly lead to lowering your electricity bill And is the best energy efficient air conditioner to purchase. We all want to cut down as much as possible on the amount of energy we use in our homes with appliances as well as our air conditioner each year. If you keep up with the maintenance on your air conditioning unit, Your air conditioning unit will continue to peak in the energy efficiency department.
It Prevents Complications and Breakdowns of the Air Conditioner
The most cost efficient means to keep your repair cost down is to ensure that you maintenance your air conditioning unit each year cut down on these cost of repairs. Approximately 70% of repairs are needed due to homeowners not maintaining their air conditioning units. Unfortunately some homeowners fall short of when it comes to regular maintenance. Annual inspections can help to prevent many problems as well with your air conditioning system.
It Will Make You More Comfortable
You want to always ensure your air conditioning unit is maintenance yearly not only to decrease the repairs but to also ensure that the unit continues to work properly. During the summer months, in some areas the heat can rise above 90 degrees which can cause a strain on any air conditioning unit. This is where the maintenance comes in handy once again. You want to be sure you are getting the proper coolness in your home during this type of heat in the summer months.
Routine AC Maintenance Will Help Your Air Conditioner Last Longer
We all need and want are air conditioning units to last as long as they possibly can due to the fact they are not a cheap product to have to replace. Air conditioning units this day and age, are pre necessary when it comes to cooling our homes. Therefore, just by maintenance your air conditioning unit yearly you can prolong the life of your air conditioning unit for up to ten to fifteen years.
It Keeps Air Quality in Your Home Better
On a hot summer day there is nothing that compares to sitting in your home and having cool air blow into your home while you relax. Always remember to have your air conditioning unit maintenance yearly to ensure the longest possible condition out of your air conditioning unit. You may need to contact a specialist to come and maintain your air conditioning unit. Usually that specialist will change any filters that needs to be changed. They will also clean any coils in your system that needs to be Cleaned and we'll remove any buildup on any of the components on the inside of your air conditioning unit. that buildup can be removed from circulation cycle that goes inside your home as well. By cleaning those components it can drastically help those that struggle with things such as Asthma as well as allergies every year.
We Offer Regular AC Maintenance
Want to get your air conditioner ready for the summer ahead? Give us a call to learn more about our services and to schedule your air conditioner maintenance today. Call Superior Comfort Heating and Cooling at (734) 818-7141.